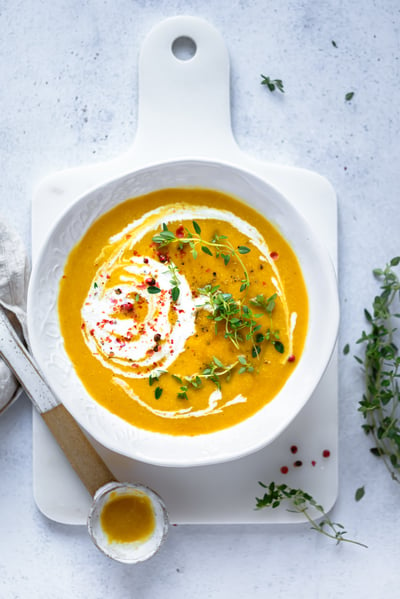 Soup season has taken on a whole new meaning in the past few years. From the TikTok trend of soup girls to the many internet soup memes, soup is more than a cold-weather comfort food — it's a part of the growing corner of the internet dedicated to cozy content creation. On TikTok, recipe videos posted under #SoupTok and #Soup are garnering billions of views.
Capitalize on the love of soup throughout the year with these key consumer insights.
The Inside Soup
Consumers Want High Quality Soup
Taste is always king, but consumers are looking for higher quality and to satisfy cravings.
76% think that it's important that soup that soup tastes good.1
69% think soup should be prepared daily.1
65% think soup should satisfy a craving. 1
60% believe soup should make them feel good. 1
Think Health and Wellness
Over the last five years, more consumers now say they usually order soup when they want to eat healthy.2 Offering soup as an appetizer may entice health-conscious consumers, as people who eat a low calorie soup before a meal consume 20% fewer calories.
Leveraging health-forward, specialized-diet soup descriptors, we can help tap into the consumer's desire to eat better and choose a flavor that makes them feel good:
| | |
| --- | --- |
| | 4-Year Growth3 |
| Plant Based | Infinity |
| Bone Broth | +330% |
| Nut-Free | +169% |
| Turmeric | +75% |
| Vegan | +54% |
| Gluten-Free | +44% |
Go Global
The rise of global foods continues to resonate across categories. Nearly half (42%) of consumers want more global soup options.3 One way to put an approachable spin on familiar favorites is to soup-ify them, such as:3
Enchilada Soup
Shepherd's Pie Soup
Lasagna Soup
Chicken Cordon Bleu Soup
Incorporating global ingredients and flavors into a familiar soup, such as a revamped chicken noodle or tomato, can also add an international flair. Many of the fastest-growing ingredients on menus are global.
| | |
| --- | --- |
| | 4-Year Growth3 |
| Tonkotsu | +109% |
| Pork Belly | +88% |
| Ramen | +50% |
| Galangal | +45% |
| Sesame | +42% |
| Bok Choy | +41% |
Soup, There It Is!
Soup is a Popular Menu Item
The vast majority (88%) of operators menu soup in general, and most of them (75%) feature it on the menu all year.4 However, there's not much variety on the menu.
84% menu 1-2 soups per day.4
43% menu 2 options.4
41% menu 1 option.4
Since consumer demand for health-forward and global options is strong, adding those options to the menu could help bring some variety and satisfy cravings.
Operators Mixed on Making Soup from Scratch
Most operators use a mix of scratch and ready-to-serve products.
55% make soup from scratch and use ready-to-serve soup.4
33% only make soup from scratch.4
12% only use ready-to-serve soup.4
Soup From Scratch
For operators that make soup from scratch, when asked why they do so, they responded with the following reasons:
I have a unique recipe (58%).4
I can control food costs (52%).4
I can have quality control (49%).4
The majority (75%) of operators also use stocks or broths for their scratch soups.4
Ready-to-Serve Soups
For operators that choose to go this route, frozen pouches and canned options lead the pack. The most important purchasing factors for choosing ready-to-serve soups are quality (55%) and cost/value (53%).4 So, manufacturers and distributors should emphasize these two descriptors as well as variety when it comes to promoting ready-to-serve soup products.

The majority of operators (58%) also use ready-to-serve soups for other applications,4 so providing ideas and recipes for operators to use ready-to-serve soups in different ways is a great opportunity to engage with operators.
Why Operators Menu Soup
Operators feature soup on the menu because it's a popular, comforting, convenient option for customers.
79% of operators said that soup is a popular menu choice for customers.4
Operators gave the following reasons for putting soup on the menu:4
Comfort food that can appear healthy.
Quick and easy to purchase and it's filling.
People like soup! It reminds them of when they grew up.
However, soup's seasonal factor and lack of kid appeal are potential drawbacks, according to operator responses:4
Kids are not as familiar with soup.
Most restaurants are in Florida where it is never really cold.
College students today just don't seem interested in lots of soup.
How to Promote Soup on the Menu
To help promote soup on the menu, operators had a variety of ideas, including:4
Pair it with sandwiches as a special.
Featuring more "entree type" soups that might be seen as a heartier sustainable meal.
Seek out all season soups from around the globe, feature them, tie them into seasonally available produce, allow the soup to serve as a means of lowering food costs and waste.
Associate it with home, family and friends.
Manufacturers and distributors looking to promote soup products should emphasize the nutritional information and value of soup products, and provide recipe and product inspiration.
Soup-er Category Insights
Looking for in-depth insights on a particular category or trend? tfgTouchpoints, our proprietary market research platform, captures in-depth, cutting-edge insights into the food industry from consumer and trade perspectives. We have a panel of over 4,000 operators who regularly contribute their thoughts and perspectives on the foodservice industry. Contact us to learn more.
1 Technomic: Consumer Food Trends, Serving Better Soups, April 2022
2 Technomic 2022, Soup & Salad Report
3 Datassential, The World of Soup, October 2021
4 The Food Group TouchPoints™ Panel Research, November 2022