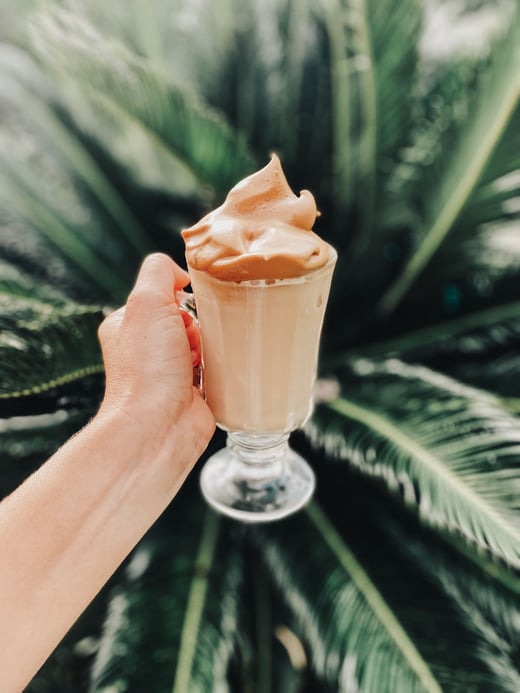 While TikTok has been around since 2017, food content on TikTok really exploded at the beginning of the pandemic, according to Datassential's Trend Watch Report, Social Media Sensations.
"According to a recent report by the platform, last year #FoodTok saw a 57% increase in views throughout the year," reported Datassential Publications Manager Rene Lee Wage. "Certain foods including feta cheese, cloud bread, and salmon and seaweed, all saw 'massive upticks' in sales thanks to creator videos."
The trends and content on TikTok have a real impact on the menu. Denny's, for example, launched a Social Stars Influenced Menu in which 24 popular TikTok creators teamed up with Denny's culinary team during the meal development process. The result was six influencers naming new meals, such as the all new Jala-Bac Burger from Jonathan Chavez (@PaqJonathan69) and Elise Osafo (@ElTheEgg).
TikTok's influence extends to retail as well. For example, when TikTokker Emily Mariko's salmon bowl went viral, Instacart reported purchases for key ingredients from the recipe skyrocketed.
"We've seen TikTok recipes take off before, especially when folks already have most of the ingredients on hand and they're easy to make. In this case, if you have leftover salmon, you're halfway there. It also helps when the final dish is delicious and full of rich flavors," Instacart's Laurentia Romaniuk told Food Network.
Recipes, Reviews, Reactions, Oh My!
Sharing original recipes or your take on a viral recipe is a staple of any food brand's social platforms. So how does that look different on TikTok?
Recipe videos are short and sweet
Recipes are often simple and incorporate ingredients people already have on hand
Kitchen hacks or other smart tips can be included to give the video a hook
Reviews are also a huge part of TikTok food content. Whether it's a review of a fast food chain's new item, a new restaurant in town, new snacks in stores, or trying another TikTokker's recipe, people love to watch other people rate and try foods.
There are plenty of accounts where their sole purpose is to review new restaurants or new items, from @traderjoesfoodreviews to @nicoleaxelrod, who does weekly reviews of Crumbl's cookie lineup.
Review and reaction videos are an important component of social listening for brands — these TikToks provide real insight into how your product is being received and repurposed. McDonald's, for example, launched four new menu items based on famous fan-made menu hacks.
Micro trends are also always popping up, helping content take shape in different formats, from trending audio to themes, such as "life-hack" video formats and "soothing" videos. Leveraging general TikTok trends can help your brand get even greater exposure.
Biggest Food TikTokkers
Influencers have, well, major influence over trends and purchasing decisions of the FoodTok community — especially on Gen Z'rs.
70% of Gen Z says they follow a food-driven personality on social media, which is nearly twice the number of Millennials, states Datassential's FoodBytes 2022 Trends report. And TikTok's What's Next Report 2022 says "partnering with creators on TikTok boosts view-through rates for TikTok specific ads by 193%, and branded content coming from creator collabs shows a 27% higher Ad Recall. Even TikTok users themselves agree — 62% say that creators are the best way for brands to connect with consumers."
Here are some of the biggest creators to follow.
Emily Mariko, @emilymariko, as mentioned above is a food and lifestyle blogger who wields great influence over 10.3 million followers.
Tabitha Brown, @iamtabithabrown, an actress, social media personality and mom who specializes in vegan recipes and has 4.9 million followers.
Sonny Hurrel, @thatdudecancaook, a chef who shares Thai and comfort food inspiration with his over four million followers.
Eitan Bernath, @eitan, a 19-year-old chef, author and entertainer who has over two million followers.
Babs aka Nonna, @brunchwithbabs, is a grandma and mom who shares her family recipes with her 1.7 million followers.
Susi Vidal, @susi.vidal, shares her fun approach to cooking with her 2.8 million followers.
Chef Chris Cho, @chefchrischo, is the chef/co-owner of Philadelphia's Searabol and posts step-by-step videos of various Asian dishes for his two million followers.
And if your brand is more niche, micro-influencers are the way to go. Done right, they can become an important part of your strategy that can help propel your business.
Best-in-Class Brands
Take inspiration from the following food brands:
The content these brands post and the engagement with other TikTokers show that consistent content creation and community management are both critical to TikTok success.
Is FoodTok Right For Your Brand?
TikTok may be a good fit for your brand if…
You are looking for more exposure to new audiences.
You are trying to reach younger demographics.
You can post on a consistent basis, devoting time and resources to crafting compelling content and commenting on other people's relevant posts.
You are keen on keeping up with new food trends.
You can provide some sort of value to your audience.
When creating TikTok content, authenticity is key.
73% of consumers say they feel a deeper connection to brands they interact with on TikTok compared to other platforms, states TikTok's What's Next Report 2022. That's likely because the platform favors genuine, casual and personality-driven content. Keep it light-hearted and fun, and stay true to your brand and who you are.
Even if you decide creating a TikTok account for your brand isn't a good fit, monitoring trends on TikTok and leveraging them for your business is still a smart thing to do.
Datassential recommends food brands "pay extra attention to social media sensations that touch on several industry-wide trends." For example, birría tacos touch on regional Mexican food, comfort food and portable food — three trends in one!
After all, don't you want to know what the next dalgona coffee is? Or the next baked feta pasta? TikTok is another platform to gather information on what's trending, especially with younger consumers, which shouldn't be ignored.
For more TikTok trends and other food and beverage marketing news, sign up for our bi-weekly newsletter, The Front Burner.