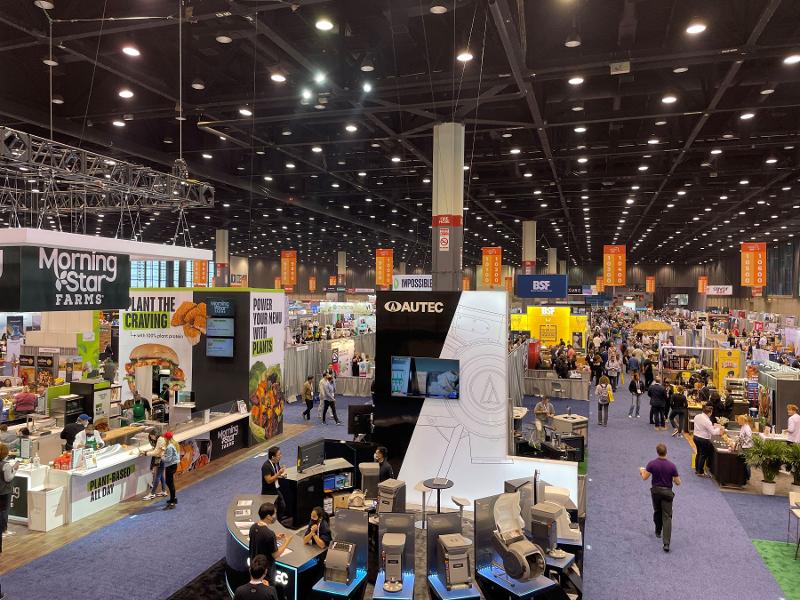 For the first time in three years, professionals in every facet of the foodservice and hospitality industry gathered together at The National Restaurant Association Show held in Chicago from May 21-24.
"Going in, I expected a smaller, less enthusiastic experience from previous years, but the conference certainly did not lack energy or engagement," said Bart Mellen, Creative Director at The Food Group. "Overall, there was a 'more thoughtful' tone to my interactions with exhibitors."
The show boasted over 1,300 exhibitors in more than 900 product categories, including the 24 products that were recognized with a 2022 Food & Beverage (FABI) Award.
Here are several standout trends noted by our team in attendance at the show:
Robots to the Rescue
A trend resulting from restaurants rebounding from the pandemic, only to be hit with labor shortages and the rising costs of goods, is the growth of technology. According to Technomic, 60% of operators plan to increase their technology budgets. This goes beyond just menu ordering kiosks and apps, but to robotic technology that prepares drinks, rolls sushi, delivers meals and even clears the table.
Pushing Plant-Based Boundaries
One in four consumers globally describe themselves as flexitarians, with sustainability and health given as top reasons for their growing interest in plant-based foods and menu items. Chefs are upping their culinary game and taking plant-based dishes beyond burgers, dogs and pizza.
Plant-based chicken dominated the protein category driven by large booth footprints from newcomer Daring Foods and stalwarts like Impossible and Morning Star. Tindle earned a FABI award for their plant-based chicken that mirrors the aroma, flavor and texture of chicken. At the NRA show, they tapped celebrity chef Andrew Zimmern to create a Japanese dashi bowl using Tindle's breaded chicken cut into thin strips to substitute for noodles.
Another plant-based item that was a hit was Yo Foods Ltd. Yo! Egg comes in two parts: a white made from peas and a yolk made from chickpeas that looks and runs just like a regular egg yolk. When assembled, it resembles a sunny-side up egg and tastes close to the real thing.
And it doesn't just stop at the dinner table, as plant-based treats have seen an uptick as well. New kid on the block Eclipse Foods gave Oatly a run for their money with their dairy-free, allergen free soft serve and hard pack ice creams. Their booth was a fan favorite among chefs, with Thomas Keller and Bill Kim seen hanging out in the booth enjoying their treats.
Breakfast is Back
Speaking of eggs, Technomic's 2022 Global Restaurant Trends Forecast predicts that egg sandwiches will overtake chicken sandwiches as the must-have menu item. As routines are returning to normal post-pandemic, the breakfast occasion is bouncing back at restaurants, with some offering 24/7 breakfast menus and creative breakfast side dishes, such as maple bacon French fries.
Global Flavor Trends
Technomic presented their menu trends research at the NRA show and pointed out that 27% of consumers are eating more global foods and drinks than they did pre-pandemic, with ingredients from Western Africa and Western Asia, along with Central America as being on the rise. Thirty-six percent of consumers are more likely to try these ingredients and spices if they are used as a way to kick-up the flavor in foods that are already familiar to them — such as topping deviled eggs with chili crisp.
Spirit-Free Cocktails along with Zero-Alcohol Beer and Wine Get Sophisticated
One of the biggest trends in beverages is the growth of zero-alcohol and low-proof spirits, beer and wine. Notable brands included Grüvi, winner of the 2022 World Beer Cup Gold Award for the Golden Lager in the best non-alcoholic beer category, also makes other styles of beer such as IPAs and Stouts, along with wines ranging from Bubbly Rose to a Dry Red Blend.
Blind Tiger, named after prohibition-era speakeasies, offers four cocktails that can be used as mixers with alcohol or standalone as a spirit-free cocktail. Their Ward 8 is a smoky citrus drink with apple, orange and cherry notes. The Bees Knees uses juniper as a natural alternative to gin to complement the lemon and honey flavor.
Better Rhodes, a curated marketplace for alcohol-free beer, wine and spirits was also sampling a selection of products at the show. They are the largest alcohol-free online retailer in North America and have been expanding into restaurants.
Fewer Food Exhibitors, More Technology Flavor Trends
"There was a very strong equipment and technology presence, not as much food as in years past. It is evident that this segment of the industry is taking advantage of how the pandemic and economy are forcing operators to consider broadscale optimization and efficiencies both front-of-house and back-of-house," said Elizabeth Ervin, Group Account Director at The Food Group. "I will be curious to see if food manufacturers continue to ramp up their presence at other types of specialty and regionalized shows to exhibit and be more targeted with how they capture new accounts and service their customers."
"Overall it was clear that everyone who showed up, both vendors and attendees alike, were there to do business and make decisions," continued Ms. Ervin. "Vendors shared that attendees were focused and seeking out specific products and solutions, and were not at the show just to browse."