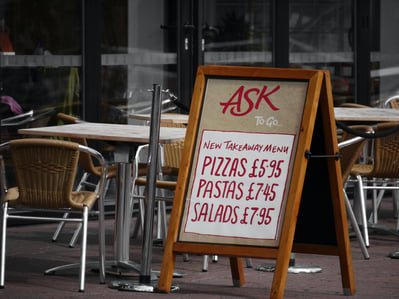 If you can't stand the heat, get out of the kitchen — or keep your cool and get creative. That's what major restaurant chains are finding as prices soar along with the temperature this summer.
Many restaurant brands are busy rustling up special deals and value offers that position them favorably in an economic landscape where inflation has driven prices higher at grocery stores than restaurants. A "TODAY" show segment cites U.S. Department of Labor statistics showing that grocery prices rose over 13% in July compared with a year ago, while prices at restaurants rose only 7.6% during the same time.
Still, even a big cheese like Papa John's, which has savored a winning sales streak for the past three years (up 36%) and has outperformed competitors, is feeling the bite as high prices eat into its profits. Though the pizza powerhouse propelled a 0.9% bump in North American sales last quarter, commodity prices climbed 18% and were compounded by higher labor costs to cut into margins.
A 21% year-over-year increase in cheese prices for June was hard to stomach and typified the inflationary environment driving restaurants to raise prices. But even with price hikes to its menu, Papa John's found itself with a smaller piece of the profit pie than it has become used to.
Keeping pace with food costs has become a challenge. As Papa John's CEO Rob Lynch explained: "It's really a unique environment. We are seeing 18% to 20% inflation in Q2, which was more than I've ever seen in my career. It doesn't necessarily afford you the opportunity to catch up with pricing."
That said, by using third-party delivery, the company has managed to bypass a driver shortage that has stalled off-premise sales for other pizza chains, while an emphasis on premium development of signature items like its Pepperoni Stuffed Crust Pizza has helped boost sales. High-margin specialty options are more palatable than raising prices on staples that consumers are accustomed to paying a lower price for. What's more, premiumization feeds the need of a market hungry for menu innovation.

After 12 consecutive quarters of positive sales, the brand claims no secret sauce for success, but Lynch expressed confidence in the company's ability to continue "managing the margin while maintaining the momentum."
Bundles, Barbells, and the Bottom Line
Other restaurant brands are finding creative ways to mitigate price hikes and alleviate margin pressure. Tex-Mex casual-dining Chuy's chain is betting on a barbell menu strategy to balance value options with limited-time specials and higher-priced premium items. The brand has pared down the menu to control costs and plans to introduce two to three LTOs every quarter to jump-start sales and maintain variety. According to Steve Hilsop, Chuy's CEO and president, one of the limited-time items "will always probably have a barbell approach."
In the face of growing concern across the industry that sticker shock will scare off increasingly budget-conscious consumers, Chuy's served up a margin of more than 19% at the restaurant level and increased second-quarter revenue by 2.6%. Given margin constraints, food costs and other challenges like labor shortages and supply chain snafus, the jump from $108 million for the quarter last year to $110.9 million this year was no small potatoes.
Meanwhile, drive-thru gourmet salad chain Salad and Go is leveraging customizable bundled offers that can cover breakfast and lunch for only $9.99 to dramatize value and drive repeat traffic. As both time- and money-savers, the bundles offer the dual appeal of value pricing and convenience, and position the brand as an affordable option for fresh, healthy food.
As Salad and Go CEO Charlie Morrison put it: "This unique deal saves our customers both time and money like never before, proving that fitting healthy and delicious food into a busy schedule doesn't have to be such a costly hassle."
The Lowdown: How Manufacturers Can Help Mitigate Rising Prices
So what practical steps can manufacturers take to help operators fight inflation and navigate today's uncertain economy? In the report, One Table: The State of the Operator & The Road Ahead 2022, the market research firm Datassential has parsed operator survey results to identify a series of action points manufacturers should keep in mind.
Products that save time, money and labor: Top product attributes that have become particularly appealing in today's operating environment are labor-saving (57%), versatile (46%), portion-controlled (34%) and pre-cut/pre-washed (31%).
Service improvements: Nearly 90% of operators favor service improvements, including online ordering for purchases (40%), menu analysis and costing (26%), nutritional information and labeling (26%), and product comparison tools (25%).
Direct outreach: Survey results show that the more direct the outreach, the better. Most preferred outreach methods include email (25%), in-person visit (22%), phone call (15%) and text message (11%).
Most important information sources: Operators turn the most to their distributor sales reps (34%), followed by customers (32%), distributor/brand websites (22%) and general internet searches (22%). Social media/mobile apps are also preferred (18%).
Now more than ever, communication, flexibility and insight are essential. As the owner of an independent casual-dining restaurant told Datassential: "Be prepared with substitutes and offer value-oriented products. Suggestions for increasing profitability in areas we may have overlooked. Compare our menu prices to nearby similar businesses to give us an idea if we're charging too much or too little in comparison."
In sum, we would all like to tell price increases to take a hike, but when it comes to offsetting inflation and difficult economic circumstances, innovation and collaboration can go a long way.
Hungry for insights into overcoming challenges and optimizing opportunities in today's uncertain economic climate? Contact us for creative concepts and custom solutions.