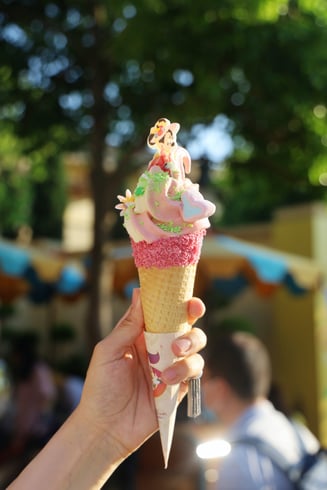 Theme parks are in the business of satisfying thrill-seekers. And while having the tallest, fastest roller coaster is still a major draw, many visitors now look for culinary thrills to round out their theme park experiences.

"Rides and attractions are the No. 1 reason why people go to the parks, but food and beverage options are a close second," notes Dennis Speigel, president of International Theme Parks Services. The "food and beverage" Speigel's referring to isn't standard carnival fare like elephant ears and corn dogs but elevated cuisine that enhances the customer experience.

Investing in better food experiences goes beyond just fueling guests. It gives the culinary thrills they seek while driving incremental revenue.
Why Demand for Elevated Theme Park Cuisine Is Growing
Theme park visitors want to step outside of everyday life. They want to experience something new. Something different. And that includes what they eat. This desire drives demand for innovative cuisine, which is why food is taking center stage at top theme parks.
Food Helps Build Worlds
Imagine walking into the Wizarding World of Harry Potter's Three Broomsticks restaurant at Universal Orlando and only seeing burgers and chopped salads on the menu. Sure, the burgers and salads might be delicious, but do they enhance the Harry Potter experience?

Instead, Three Broomsticks offers British fare like fish and chips and shepherd's pie. With this cuisine, it's easier for guests to imagine themselves dining at Hogwarts with Harry, Ron and Hermione.

The lesson? Elevated food more strongly connects visitors to an engaging, themed storyline. It turns a good experience into a truly memorable one.
Food Enhances Promotional Events
Theme parks like Disney and Six Flags have placed international cuisine at the center of promotional events to attract visitors and drive incremental revenue.

Six Flags offers its Flavors of the World experience during peak visitor times and layers an additional fee on top of general admission. Guests enjoy between eight and 12 samples of regional foods, depending on the "passport" they buy.
Social Media Users Share Elevated Food Experiences
It's no secret that social media users, whether on TikTok, Instagram or YouTube, love posting — and consuming — content about food.

The Instagram hashtag #food has more than a half-billion posts. Ordinary Adventures, a popular YouTube channel documenting a couple's theme park experiences, has over 330,000 YouTube followers. Their video reviewing the food at Universal's new Minion Land has more than 240,000 views.

The earned media coverage associated with these posts is evidence enough that theme parks should invest in surprising and delighting visitors with memorable culinary experiences.
Allergen-Friendly Menus Are No Longer Optional
Theme parks are in the thrills and hospitality businesses. If visitors can't enjoy a themed meal due to a food allergy, their experience suffers and they're less likely to return.

Disneyland devotes an entire webpage to helping visitors with allergies plan their on-site meals and even encourage guests with multiple allergies to contact its "Special Diets" team before arrival.

And it's not enough simply to accommodate dietary restrictions. The food must be as memorable as what visitors without allergies enjoy.
How Theme Parks Can Drive Profits with Elevated Cuisine
Theme parks that haven't yet invested in culinary experiences can start capitalizing on this trend — and driving profits — with these three offerings.
1. Shareable Dishes
Shareable dishes, whether they contain large or small portions, allow visitors to sample multiple menu items while playing into a new eating culture.

This trend is especially true for younger generations. According to food purveyor Simplot, "Generation Z and younger millennials are drawn to shareable food options. This is partly due to a desire for social and convivial dining experiences and partly because many are accustomed to making meals out of snacks and small bites."

Again, let's go back to The Three Broomsticks. One of its core menu options is The Great Feast. It's a mix of vegetables, potatoes and meat on a shared platter that serves four. It not only adds to the Harry Potter theme, but it also allows diners with different appetites to consume what they want.
Another benefit of shareable dishes? They boost profitability. Small shareable plates are usually less expensive than entrees, which encourages guests to order more. Plus, small plates tend to use less protein — the most costly food item — increasing the margins on these dishes.
2. Adult Beverages
Why should kids have all the fun? Creative adult beverages allow theme parks to tap into the desire for novel and memorable culinary experiences.

Disneyland famously began serving alcohol in 2019, 64 years after opening. Two factors likely swayed senior management:
Alcohol has higher profit margins than food.
Exotic cocktails would enhance the experience at Oga's Cantina, a key concept in Disneyland's new Star Wars: Galaxy's Edge attraction.
An experiential adult beverage program must consider the drink's presentation as much as what's in the glass. Oga's foam-topped, bright yellow Fuzzy Tauntaun cocktail looks like a beverage of the future.
3. Instagrammable Menus
When theme park food and drink is entertaining and delicious, it becomes more Instagrammable. This content can be powerful — and free — advertising.

TINT's 2023 State of Social & User-Generated Content report backs this up: "Consumers trust authentic, unpaid recommendations from real customers more than any other type of content."

While they certainly help, theme parks don't need immersive experiences like Galaxy's Edge as backdrops for Instagrammable menus. The food or drink itself is usually enough. For example, Hershey Park's over-the-top King Size Shakes blend spectacle and flavor, making an irresistible photo op.
Capitalize on Elevated Food Trends Now
These theme park food and beverage trends aren't going away anytime soon. Food purveyors and manufacturers that keep up with these trends are in a better position to recommend elevated products to theme park management.

Subscribe to our newsletter The Front Burner and be the first to know about industry trends ranging from packaging to promotions.