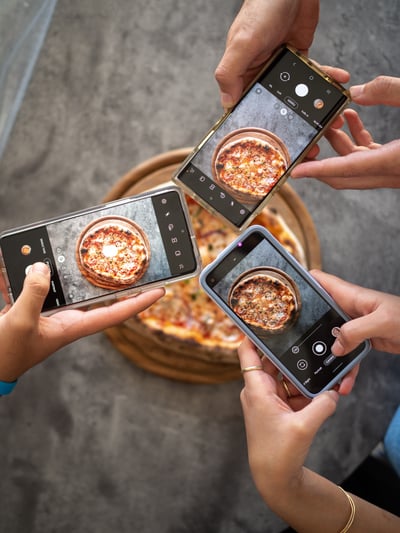 The most multiracial and ethnically varied generation yet, Gen Z serves up a feast of opportunities and challenges as their sheer numbers and diversity send food and beverage brands scrambling for ways to hit their sweet spot.
Born roughly between 1997-2012, Gen Z will account for all new adults over the next 10 years, and with $360 billion in disposable income,1 they already occupy a big place at the table for the food and beverage industry. Unilever Food Solutions cites research revealing that food accounts for 23% of teen spending, followed by clothing at 20%.2
As the first generation of digital natives, Gen Zers have been weaned on digital devices, which have played a pivotal role in their maturation, shaping their brand perceptions and purchasing patterns. While smartphones, tablets and social media in its various permutations were novel and disruptive for previous generations, these technologies are normative and seamless for Gen Z.
As a result, Gen Z has been contributing to the growth of digitally driven services like online grocery shopping. Thirty-five percent of Gen Zers surveyed report shopping for groceries online at least once a week.3 They're also predisposed to order restaurant food online for takeout or delivery and only consume 44% of restaurant meals inside the restaurant, compared with 50% of Gen X and other older consumers.2
A Taste for Tech and Treats: Gen Z Feasts on TikTok and Savors Bold Flavors
Trusted and favored by Gen Zers, tech brands are attractive marketing channels for reaching them. According to Morning Consult, "86% of Gen Z adults have a favorable impression of YouTube, making it the most popular brand with the cohort. YouTube parent brand Google comes in at No. 2, followed by Netflix in third place and Amazon in fourth."4
Morning Consult also found that food and beverage brands dominate the rankings of Gen Z's favorite brands. M&M'S ranked highest at No. 5 with 80% favorability.4 Doritos (79.32%), Kit Kat (78.96%) and OREO (78.57%) followed close behind.4
The high ranking of snack foods is telling. "Gen Z loves to snack," reports Unilever Food Solutions. "They're increasing the number of items eaten in between meals while eating smaller main meals. As boomers decrease side dishes eaten with their main meals, younger Gen Z consumers are eating more traditional snack foods and side dishes as a convenient way to make up a main meal."2
TikTok is a go-to source of recipes for Gen Zers, many of whom consider themselves "foodies."5 Fifty-three percent of Gen Zers surveyed report being adventurous eaters who find inspiration for new foods and culinary experiences on TikTok.5 Keep in mind that 54% of Gen Zers surveyed spend a minimum of four hours a day on social media, and TikTok is the most downloaded app for people between the ages of 18 to 24.4
Because they're more diverse and multicultural than their predecessors, they have a preference for bolder, more eclectic food options. "This means that Gen Z is more receptive to ethnic foods, global flavors and meals that are inspired by cultures around the world," reports Food Manufacturing.6
Value of a Dollar: Gen Z Values Feed Into Their Purchase Behavior
As a socially conscious and sustainability-minded generation, Gen Z presents opportunities for brands and manufacturers to support causes that influence Gen Zers' purchase decisions.
Gen Z is attracted to brands that align with their progressive values and reflect their diversity in terms of race, gender and sexuality.
Mintel reports that 70% of U.S, consumers aged 11-17 believe their sustainable choices can have a positive impact, and 56% are concerned about climate change.7 Gen Z emphasizes authenticity and inclusion, with over half stressing the importance of advertising that features real rather than ideal representations of them.7
"To reach Gen Z, brands should focus on being transparent about their values, market using authentic representatives and be willing to embrace new digital ways of reaching consumers," Mintel states.7
On balance, Gen Z is the "multi" generation — multiracial, multicultural and reachable through multiple channels across the digital landscape. What may be the most multifaceted generation may also be the most promising yet for food and beverage brands with the savvy to understand Gen Z passions, preferences and priorities.
1 Kelso, Alicia, "Restaurants New Year's resolution: Finding Gen Z's sweet spot," Nation's Restaurant News, December 22, 2022
2 Unilever, Trend Watch: What You Need to Know About Catering to Gen Z,
3 FoodMinds, What Gen Z Trends Reveal About Changing Consumer Values, June 3, 2022
4 Morning Consult, Gen Z's Favorite Brands 2022
5 Crowe, Emily, "How Gen Z and TikTok Are Shaping Food Trends," Progressive Grocer, June 12, 2022
6 Food Manufacturing, What Food Manufactures Need to Know About Generation Z, September 17, 20187 Mintel, Three Things Brands Need to Know About Marketing to Gen Z Consumers, November 16, 2022